As an independent engineering and consultancy company, we know all existing carbon furnace designs in the world: therefore, we know the advantages and disadvantages of these designs.
This is why we can offer the best possible design solutions within any given building or process limitation. Aside from building from scratch, we are specialized in the rebuild of existing furnaces and
the rebuild of closed furnaces to open furnaces. In a safe way, guaranteeing consistent top quality,
with maximum cost efficiency.
AND: in case of rebuild, we guarantee our time schedule, so you know exactly what to expect
and how to plan your production.
TOP quality anodes baked under optimal furnace design, with totally controlled firing system and
clean emissions: more anodes, less costs, with maximum consideration towards environment and human resources. In short: the ideal working and producing conditions for Carbon Baking.
We offer nothing less than the best. Be it in greenfield built or in the rebuilding of furnaces.
Meaning:
• Guaranteeing consistent top quality of all baked anodes.
• Energy Consumption: < 1.7 GJ/t (baked anodes) Pitch burn combustion efficiency up to 99.84%.
• Emissions in accordance with international standards Clean off-gas & no collecting of Tar!
• Production capacity: > 60.000 ton/fire baked reject < 0.2%.
• Flexibility in Long Term Operation important in case of amperage creep.
• The Lowest Refractory Maintenance Costs.
In order to make our design work perfectly and to produce the best Anodes, there are three
imperative conditions:
1. The right Refractory and Tub design & the best available Refractory Materials, based on knowhow
1. and experience including modeling, choice of materials and specifications.
2. Advanced Firing and Control System, combining the latest technologies with thorough understanding 1. of operators, process engineers and Smelter Management needs.
3. Specialized Anode Handling Equipment, an experience based selection of MPM's conveyors,
1. cleaning stations, etc.
This introduces CFT's best practices in furnace operation and refractory maintenance.
Our design of a CFT baking furnace is based on:
1. Safe Operations and Safety during Construction.
2. Healthy and ergonomic working environment.
3. Maximum productivity and quality of the anodes.
Detail A: No tripping hazards in our design.
The side wall insulation is completely covered by the concrete tub console and anchored to the Tub.
Detail B: The design can be made suitable for all anode dimensions with either vertical or horizontal packing of anodes.
Detail C: Improved pre cast flue top, without air ingress and the risk of burning the operators feet.
Detail D: A new design for precast side wall insulation that is safer and faster to install but provides as high levels of insulation to typical designs.
Detail E: Starter blocks for faster and safer flue wall renewal.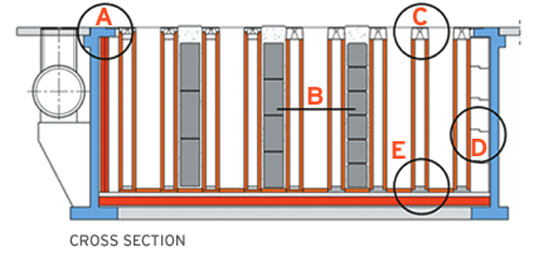 We can offer:
• an unique and proven Refractory System design,
including Project Management, Project Management
Support to the client, Installation Supervision,
Quality Control and Refractory Material Inspections.
Together with our partners we can also offer:
• a Special Tub-design and Ring Main (Duct) design,
• Customized anode handling equipment and
• a State-of-art Firing System.
Our preferred partners are:
• PENTACON and Custom Automation (former
Webb Australia), Australia for Anode Handling
Systems and Rodding Shops
• INNOVATHERM, Germany, for Firing Systems
and Fume Treatment Centers
• and we always like to bring in Local
Companies and new Partners.
Peter van Varik
Managing Director
Qualifications
Bachelor of Engineering – Structural
Graduated cum laude at the Polytechnic of Rotterdam
Profile
Peter has worked for more than 20 years at Aluchemie Rotterdam. Aluchemie has been the largest Carbon Plant in the world which operated 7 Carbon Bake Furnaces and three Paste Plants, producing more than 510.000 mtonnes of baked anodes per year.
As Manager of the civil and refractory department he implemented the DuPont's Contractor Safety Management system, and developed the Plant's SHE plans for Project Management. The ongoing optimization of civil and refractory maintenance by the development and introduction of new technology and procedures was also a key aspect of his work
Peter was also the Alesa Carbon Technology Manager at Aluchemie. He has undertaken Baking Furnace audits, proposals, expansion studies, reviews, scope of works, commissioning, site assistance and trouble shooting for many third party clients all over the world. Including RioTinto, Alcan, Dubal, Billiton and Alcoa Plants.
Since 1992 he has been a member of the Refractory Materials division of the Dutch Standards Institution.
Peter has earned a worldwide reputation through his extensive experience of Carbon Plant operations, and detailed knowledge of civil and refractory designs, and ability to create efficient solutions.
Aaron Tutt
Engineering Manager
Qualifications
Bachelor of Engineering (Honours) (Civil); Queensland University of Technology.
Profile
Aaron started his career in 2011 within the civil contracting firm Pentacon which is based in Brisbane, Australia. The Australian partner of Carbon Furnaces Technologies (CFT). He worked on civil construction projects throughout South-East Queensland, as well as the Black Coal basin and Coal Seam Gas Basins within Queensland.
In 2017 Aaron joined CFT and immediately began working on engineering for refurbishments of existing furnaces. He is equipped with the skill of being able to produce technical drawings and therefore draft and plot conceptual and final plans for any Furnace Design.
Joining the team as a young civil engineer and learning from the experienced colleagues around him, he has already built up credit within the industry. In 2018 he helped finalise the engineering for Century's Rebuild of Furnace D at Vlissingen, and subsequently supervised the carrying out of the Rebuild which took place in 2019.
In 2020 CFT was awarded the Engineering to retrofit TRIMET's existing Furnace into a CFT design. Aaron's role within this project was pivotal, having completed the Planning; Engineering; and Supervision alongside the team from start to finish.
2021 has seen Aaron's development within the industry progress even further by being involved in the digitalization of a Closed Baking Furnace's drawings, while simultaneously aiding Lead Engineer Harry Sebel in redesigning elements within the furnace.
Aaron has also begun carrying out audits and inspections on numerous furnaces throughout Europe and North America. These audits are an integral part of the process to develop the most efficient furnace.
Harry Sebel
Senior Consultant/Trainer
Qualifications
Structural Steel Engineer
Refractory Engineer
Profile
Harry started his career as a structural steel designer. In the period 1974 through 1989 he designed mainly steel constructions for the petrochemical industry.
In 1989 Harry joined NV Gouda Vuurvast (GVV) and very soon he was Head of their Engineering department. With GVV he was responsible for the design of the refractory linings for the petrochemical industry and for aluminum smelting and holding furnaces.
From 1994 he became involved in the design and further improvement of the Alesa /Aluchemie Technology projects worldwide. At the same time he was involved at GVV in the engineering of all GVV's "Rebuilds on the Run".
After his early retirement from GVV in 2009,
Harry joined CFT and made his specialism available to all former and new clients.
Rien Feldmann
Senior Consultant/Trainer
Qualifications
Certificate Civil Engineering
Member of the Institute of Refractories Engineers
Profile
Rien has started with Gouda Vuurvast in 1967 as a construction manager for projects
in the petrochemical, ceramic industry, steel industry and the aluminum industry. In the
period 1981 thru 1986 he left GVV and
worked as a contract manager in Australia.
In 1986 Rien rejoined Gouda Vuurvast
Stayed on fulltime until his retirement in 2006.
Rien developed the so called "Rebuild on the Run" strategy, which enables a Plant to undertake the necessary maintenance and changes to the tub and refractory design without decommissioning the furnace. Rien has successfully constructed furnaces with his "Rebuild on the Run" method.
Nowadays Rien is available for CFT as a specialist regarding project support, audits, inspections, calculations and reviews for the Primary & Secondary Aluminium Industry and the Refractory Industry.